Olivia Awbrey / New single / Don't Be Alarmed
Live Premier: June 22nd at 8pm at Turn Turn Turn in Portland, OR
(line up includes local comedian Katie Piatt, Evan Way of The Parson Redheads, and folk-punk hero Rascal Miles)
Change, an increasingly gentrified Portland and…bacon? All things are covered in "Don't Be Alarmed," the latest single by psych-punk folk artist Olivia Awbrey. Set to premiere with her full band at her June 22nd show at Turn Turn Turn, the song is about today's political climate of gaslighting, and balances heavy social commentary and infectious doses of whimsy on a fine edge.
"I wanted it to be a fun song to listen to, hence the line about bacon, and I also wanted to write a song that honestly proclaims frustration – maybe even exhaustion – with the overwhelming state of things," says Awbrey, who has been playing her own mix of folk/punk music around Portland and the West Coast for the past three years.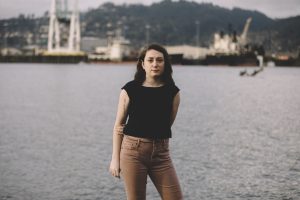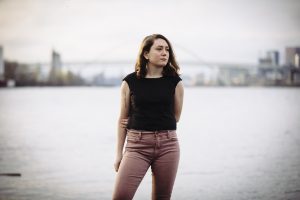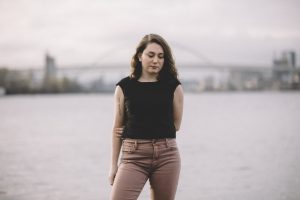 Featured on the track are Pete Abraham on electric guitar, Noah Merrill on bass, and Carl LaRuhe on drums. Written and produced by Awbrey, she took the lead on rhythm guitar, vocals and synth. It was recorded in Portland at The Rye Room with Matt Greco, and mixed and mastered by Jon Clayton at OneCat Studio in London.
For the song's premiere show, Awbrey has brought together a genre-spanning lineup supported by local comedian Katie Piatt (who recently sold out her Male Fragility show at Deep End Theater), Evan Way of The Parson Red Heads and Portland's DIY folk-punk hero Rascal Miles.
The heavy dose of psych-rock goodness sure to come from the single's live release marks a shift in genre from the long-time folk singer and is a precursor of what's to come on her debut LP.
Her sophomore release will premiere in 2020, produced by Hutch Harris of The Thermals. Until then, catch her on tour in the US this summer and England this September.